In Memory of Myra Soden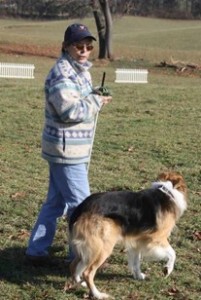 We lost Myra Soden at dawn a few days before Thanksgiving 2013, and border collies everywhere lost a real friend. Myra rescued hundreds of border collies, and dozens of mixes, and found them forever homes. Those she couldn't place because of intractable problems, she kept. She taught classes for people who had new dogs, and one of her students told me that she "was in awe of Myra's 'control' amidst the chaos that we presented her. Bedlam never fazed her".
Myra was a part of the Fall Fiber Festival for more than 20 years, as liaison between the Virginia Border Collie Association (whose members put on the Sheepdog trial) and the Festival committee. She loved this trial and it showed. She engaged local businesses who donated to the event, put up fliers, organized the loan of a golf cart and a tent to protect dogs and handlers from the weather, and found local service organizations to help as volunteers at the festival. She was the spirit and heart working backstage at the trials so the dogs, sheep and handlers could shine.
Handlers competing in the trial were enlisted to act as educational announcers to explain what the dogs and sheep were doing on the field. For months before the trial, she scouted Virginia for the perfect sheep for the competition then worked to acclimate those sheep to working with dogs. Myra wanted great, dog broke sheep so that each dog competing at the trial would have a fair chance to do well. She always had the dogs' best interest at heart.
Myra had a quick temper, a sharp tongue, a quicker wit, and a heart of gold. And you didn't need to be her close friend to be the beneficiary of her good heart. She brought out love in some people, and exasperation in others. She was a truly unusual human being who will be sorely missed by both two and four legged creatures. On her Facebook page, Myra pasted the following quote " Your beliefs don't make you a better person, your behavior does". As one of the Festival committee beautifully put it, Myra's diligence and courage will be remembered for years to come. She is missed.
In Myra's honor, VBCA will offer a perpetual trophy, to be given each year to the highest scoring rescued dog. After 18 years, the trophy will retire with the person who has won it the most often. Myra would be so proud of a rescue dog and handler who made it to that level!
For more information, please email [email protected]