Congratulations to our 2019 Cover Artwork Winner Olivia Hudson!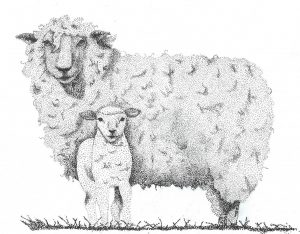 Olivia's art will be used on our catalog cover and 2019 t-shirts and totes – look for them at the Info tent at the Festival.
Olivia has been drawing and painting since elementary school, took AP Studio Art in high school, and will be graduating from college in December.
Currently she is working for a carpenter/cabinet maker which she really enjoys and plans to pursue as a career. Olivia learned to knit when she was about ten and she gets together with her Mom and a group of women who've encouraged her art to knit whenever she's able. Another hobby is traditional archery using a recurve bow her Dad made, and she hopes to compete with it one day. She has been riding since she was twelve and enjoys spending time on a friend's ranch. Olivia is also hoping to take up surfing soon so she can take advantage of living at the beach , "I can be a surfing cowgirl."
Olivia comments "My artwork features a ewe and new lamb that I created using a stippling technique where the drawing is made up of varying amounts of dots to create shading. I chose this subject matter because I enjoy working with animals and have helped bottle feed lambs at a local farm."
The FFF Committee also congratulates our 2019 Runners-Up!
Maureen Mumford, is a high school student living in the Shenandoah Valley.  Her favorite art medium is pen and ink, and she enjoys sculpting and crocheting as well.  Maurrn loves watching sheep dog trials and these experiences inspired her artwork.  She creates detailed drawings of animals that capture their character and spirit with liveliness and warmth.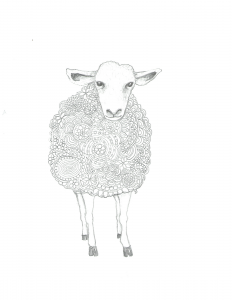 Julia Sapir is an artist and a middle school teacher living in the Shenandoah Valley. She enjoys drawing four-legged creatures and appreciates natural fibers and homespun wool above all.