Check back in February when we will be posting our 2018 Class schedule!
2017 Adult Classes & Registration Info
The Registration deadline for fiber workshops is September 29, 2017. To register for Adult Classes, or for more information, please contact Bitty Yancey by email at adultclasses@fallfiberfestival.org
Please plan to arrive a few minutes early for your class!
SATURDAY, October 7, 2016
10 am – 1 pm  FELTING: Felted Brooch, with Nan Crawford

Using fine wool fibers and vintage sari silk, make a felted brooch or pendant. This is a small project in size, but big in felting techniques: wet felting, nuno felting and (optional) needle felting. The instructor will also provide a variety of accent beads and wool locks as optional surface designs.
Skill Level: No previous felting experience is required.
Non-refundable Class registration fee: $45 Materials fee: $10
ALL DAY 10 am – 4 pm  WEAVING: Inkle Loom Weaving, with Barbara Tafuni

Inkle Looms are not just for children, or just for weaving beginners! Explore the possibilities of weaving on this basic inexpensive, portable loom. Weave with unusual materials; try your hand at following a chart to weave a picture; toss in a little 3-D embellishment. Barbara will guide you through many different weft patterns. You will leave with your samples and a folder of patterns.
Skill Level: No previous weaving experience is required.
Non-refundable Class registration fee: $45 Materials fee: $10
2 pm – 5 pm  FELTING: Felted Fleece Rug, with Nan Crawford

Using raw, locally raised fleece, wet felt a small rug or mat for your pet. All materials and supplies will be provided, but participants should bring a bath towel for blotting water.
Skill Level: No previous felting experience is required.
Non-refundable Class registration fee: $45 Materials fee: $10
SUNDAY, October 8, 2017
9:30 am - 12:30 pm  RUG HOOKING: with Mary Henck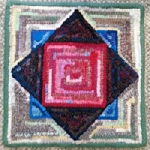 Experience the old art of rug hooking. In this class you will get hands on experience with tools and methods of rug hooking while making a beautiful hand-hooked mat from wool flannel and yarn. As you learn more about the history and practicality of rug hooking you'll understand why there has been a resurgence of interest in this creative, homey, craft.
Skill Level: No previous rug hooking experience is required.
Non-refundable class registration fee: $30 Materials fee: $45
9:30 am - 12:30 pm  FELTING: Needle Felt on Fabric Totes, with Nan Crawford

Using several techniques, we will explore the options of needle felting into woven fabrics. The instructor will provide cotton canvas bags to needle felt on to. This technique also lends itself to needle felting onto denim and other heavy weight fabrics, so participants have the option to bring a denim jacket or shirt to needle felt on if desired.
Skill Level: No previous felting experience is required.
Non-refundable Class registration fee: $45 Materials Fee: $15
1 pm-4 pm  SPINNING: Hand Combing Wool for Spinning, with Kim Radcliffe

Do you want to spin a smooth and even yarn? Spinning from combed top is the way to go! We'll start with a short discussion about fleece types, different types of combs, and how to match fiber to the appropriate combs. Then we'll move on to combing. You will learn different ways to get the most useable fiber out of a fleece and reduce the waste from combing. I will show you how I diz for an even combed top. You will leave with the most beautifully prepared fiber for spinning! Disclaimer: combing can be addictive!
Supplies Needed: Please bring combs if you have a pair, a few will be available to borrow. Fleece will be provided, or bring some of your own if you like.
Non-refundable class fee: $45 Materials fee: $10
1 pm-4 pm  DYEING: Unraveling the Mystery of the Indigo Vat, with Becky Blake

Using ingredients available at the grocery store each participant will create an easy indigo vat in a gallon jar and dye up to a pound of goods – wool, silk, cotton, or linen. We will learn to take measurements to avoid vat troubles, learn to trouble shoot when problems arise, and become empowered to successfully build an indigo vat on your own. Each participant will go home with supplies for making another indigo vat.
Skill Level: Suitable for intermediate or experienced dyers who want to increase comfort level in indigo dyeing.
Supplies: Notebook & Pen, permanent marker, wood paint stir stick, plastic bucket, plastic bags for taking home wet dyed materials, rubber gloves, apron or old clothes, 8 oz canning jar with lid, net bag if dyeing fibers, one gallon distilled water.
Non-refundable class fee: $45 Materials fee: $10